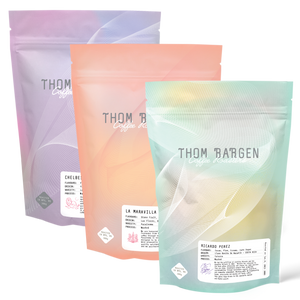 5% discounts on all subscriptions!
Coffee Subscription
Regular price
$13.51
$0.00
Unit price
per
1) Always Sunny, all the time:
Always Sunny is our top selling coffee, and for good reason! Always Sunny is our most inclusive style of roast. It's chocolaty, nutty, and full body. Pot after pot, this coffee delivers.
To create our version of a consistent chocolate forward coffee we've partnered with a small farm cooperative in the mountains of St Agustin, Colombia. We had the opportunity to visit this area in 2020 and meet the beautiful families that contribute to this coffee.
* Brew as espresso or filter.
---
2) TBCR Club:
Every month our roast team will pick two filter coffees to highlight in the TBCR club. This club is where we release our newest coffees as well as limited releases. Perfect for the coffee nerds and explorers.
---
3) Spro:
Our espresso subscription is for the home baristas and latte art slingers. A small and fun rotation of our espresso offerings.
---
4) Always Sleepy:
Caffeine conscious? This decaf delivers all the flavour without the lack of sleep.
---
5) 2lb bag:
Our two pound bags will rotate and focus on central America full body coffees.
---
6) 5lb bag:
Our five pound bags will rotate and focus on Central American full body coffees.