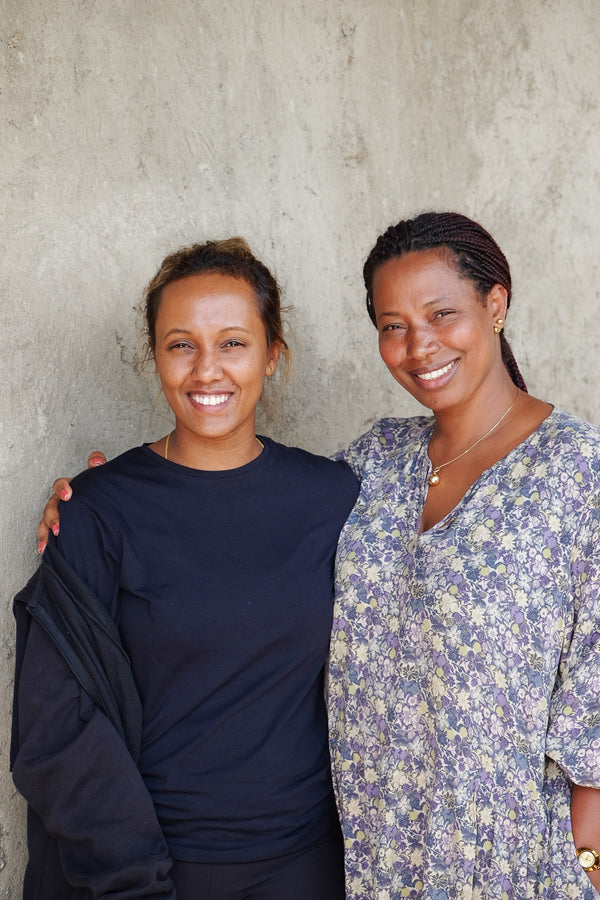 We had the opportunity to visit Ethiopia and Kenya this past February. This was a life changing experience in many ways. Ethiopia is an incredibly unique country. Foreign businesses are not legal in ethiopia. This makes the experience there unlike any other we've had. It's quintessentially Ethiopian.We visited many factory operators to cup their coffees during our time in Addis Ababa. When we met Mahader Dumerso, we could sense her love for her community.
Mahader and her sister employ over 400 employees and purchase cherries from over 600 small farms in the region. They are a significant player in the local community. Along with job creation, they have built a local health care facility and give healthcare to all their employees. They've also contribute to social improvements like filtering water which is very big issue and has helped lower the rate of cholera. Their investment in power to run their station has also help the region as they can feed electricity to many neighbouring houses. It was evident to us that their passion lay beyond coffee.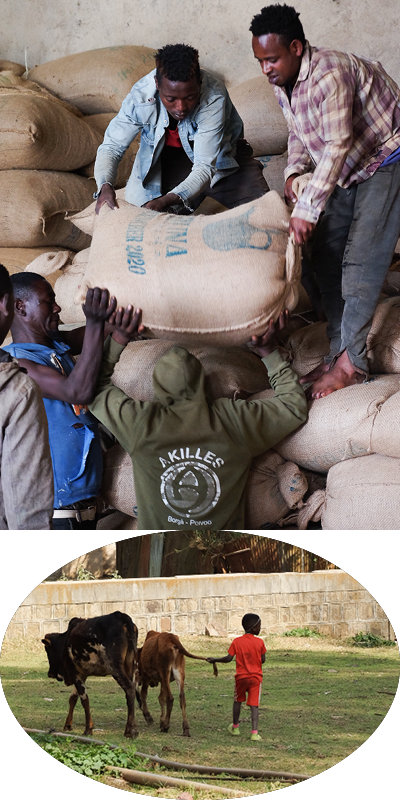 The Dumerso Washing station was started by the sisters eight years ago. They've since added a second station (more on that later). When we made the trip up country to visit the station we had further opportunity to learn about their process. It was a breath taking view. In the highlands of Hirut, amongst the hills and clouds lay the station. It is meticulously organized and the process was systematized in a way that was clear and easy to follow. Much less chaotic than other stations we visited. This organization leads to very thorough sorting of the cherries. This is why their coffee is consistently delicious. The sisters also, sort different lots and regions. Transparency like this is not normal in Ethiopia. We were able to purchase a beautiful washed coffee as well as a special natural lot from a neighbouring church lot. We are incredibly excited to present to you the Dumerso Sisters coffee. We hope you enjoy!
---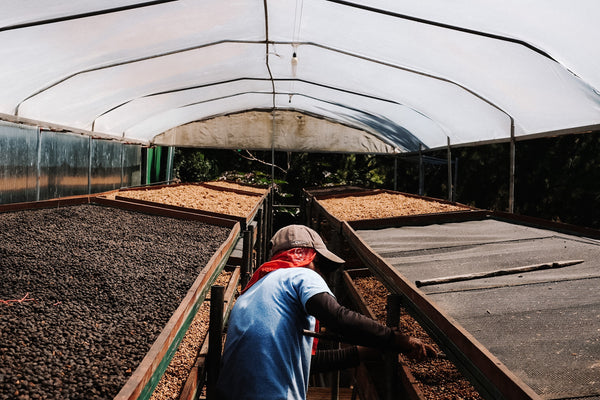 Ricardo Perez
It's finally arrived!  We cupped this coffee with Ricardo and chose this lot for its sweet, clean profile. 
Ricardo has passed down his passion for coffee to his daughter Melonie, who has returned to the farm after going to university.  They exemplify sustainability in their focus on organic processes, community collaboration by processing their neighbours coffee, and of course, quality.
We purchased this coffee directly from Ricardo, and had it shipped through our friends at Apex CoffeeRicardo and Melanie run the Helsar Station in the West Valley of Costa Rica. They are an important part of their community as they process many neighbouring farms. It's a real honour to bring their coffee home to Winnipeg and share it here. 
---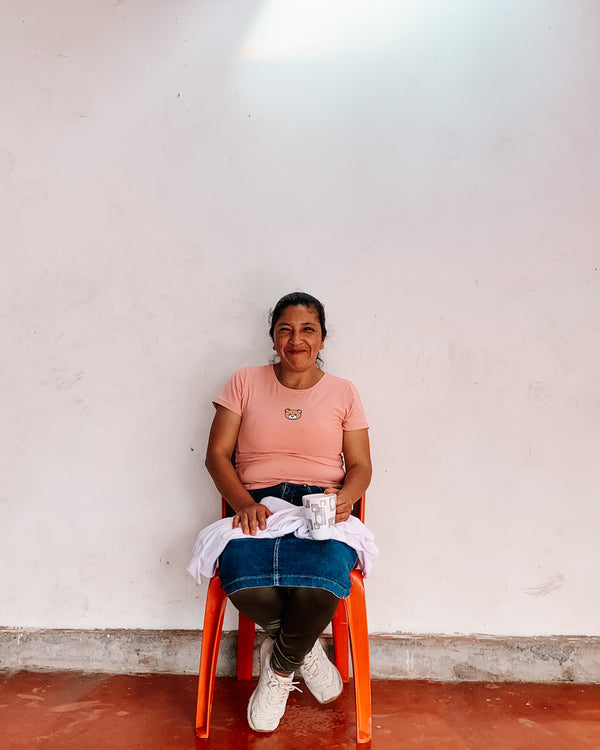 Martha Reina
If you're familiar with our coffees you know we are huge fans of the legend: Martha Reina. We've been committed to purchasing her coffee for a few harvests now and because of this partnership we've been able to purchased an exclusive micro lot.

First up, 100% Caturra semi aerobic! When we visited Martha in November we were blown away by her processing. This process isn't as simple as "natural" or "fully washed" process. Coffee roasters like to put neat and tidy labels on coffees to explain a part of the process to consumers. In truth, it's often far more complicated than that. This coffee is a perfect example.
After picking, the cherries go into a large tiled tolva tank for 30 hours. The tank is covered with a tarp to jump start fermentation. The coffee is then depulped with a small amount of mucilage left on the seed (lets call it honey). These semi washed seeds are then put into an aerobic tank without water for 24 hours. Following this step they are washed with cold water and placed out to dry on raised dry beds for 20 hours.

The result is one of the most exciting catarra's we've tasted to date. Clean and crisp with candy notes of Skittles and yellow fruit!

This lot will be around for a few weeks.

Available in store and online now.
---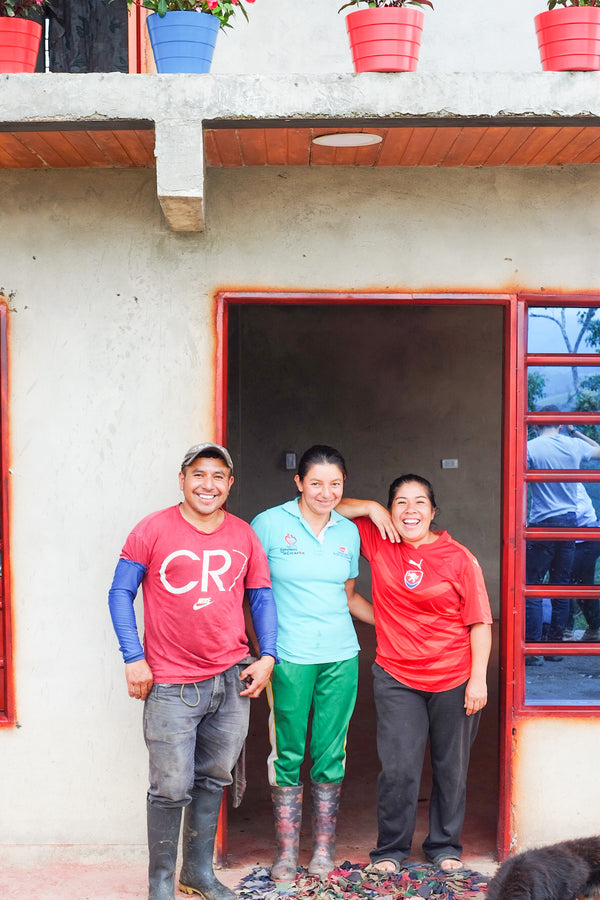 LOS NARANJOS, Henry & Tanya
High up in the clouds around 1900 meters above sea level, near the town of San Agustin, sits Los Naranjos. 14 years ago Henry and Tanya set out to purchase a farm and seek a better life for themselves. After winning a local raffle, Henry took his winnings (two cows) and sold them to the bank to get credit for his new farm. Years later, they are proud farmers with a beautiful house and lovely family. Something that sets them apart is that they are a hands-on family farm. They pick the coffee with cousins, process on their own wet-mill and transport the coffee.
It's a true family operation. It is in part due to this attention to detail that they produce some of the best Caturra and bourbon in the area. Their story is one of hope for the area. It's a great example of how hard work, improved quality, and selling into the specialty coffee industry can drastically improve a farmer's income and overall lifestyle. We are very proud to have Don Henry & Tanya's coffee contribute to our ALWAYS SUNNY coffee annually. 
---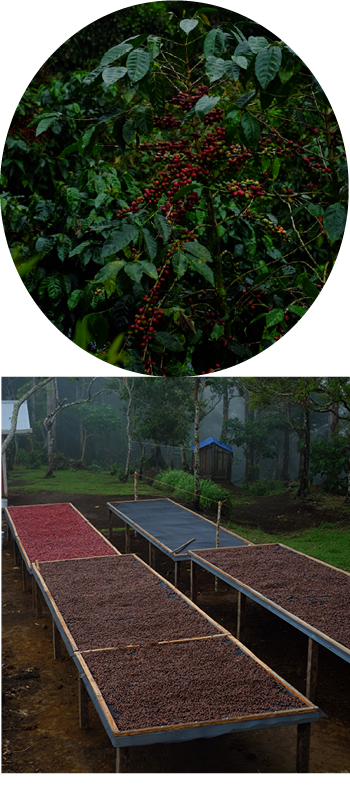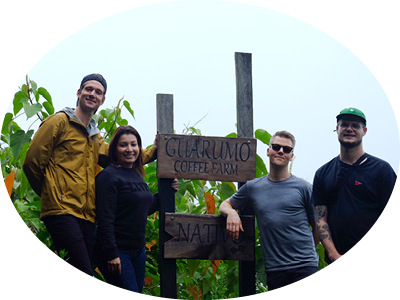 MI FINQUITA
Mi Finquita is a project founded by long-term coffee professionals and coffee producers Ratibor Hartmann and his wife Tessie. Ratibor is one of the siblings of Finca Hartmann, so coffee is practically in his blood. His answer to the opportunity of the growing specialty coffee sector and the increasing demand of customers for specially produced lots of coffee was the project of Mi Finquita. Using their contacts to other coffee producers and smaller farms and their knowledge of coffee production and processing Ratibor and Tessie process and help produce coffees from a handful of farms and sell them under the brand "Mi Finquita" which means "My small farm".
In november 2020 Jason, Thom, and Graham visited the farm for 4 days. On our stay we developed an understanding of how connected the Hartmanns are to nature and the beauty of the Panamanian volcanic country. Tessie was a gracious host and we were honoured to stay right on the farm with them. We will never forget their hospitality. We also will never forget their coffee. Unbelievably vibrant and fruit forward. Their coffee stands alone.
The farms are located in and around Los Pozos, in the Chiriquí Province of Panama, between 1.650- 1.900 meters. They currently produce varietals like Caturra, Bourbon and Geisha. The climate is mild tropical with temperature as low as 4°C at night and sometimes even frost and ice. The annual averages are 18 degrees C during the day, 15 degrees C during the morning and a maximum of 26 degrees C in the afternoons during the summer.
---