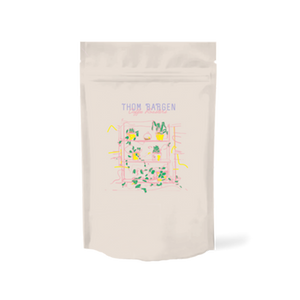 Thom Bargen Coffee Roasters
2LB - Always Sunny - Espresso or Filter!
Regular price
$37.54
$0.00
Unit price
per
Always Sunny is currently from Colombia:
High up in the clouds around 1900 meters above sea level, near the town of San Agustin, sits Los Naranjos. 14 years ago Henry and Tanya set out to purchase a farm and seek a better life for themselves. After winning a local raffle, Henry took his winnings (two cows) and sold them to the bank to get credit for his new farm. Years later, they are proud farmers with a beautiful house and lovely family. Something that sets them apart is that they are a hands-on family farm. They pick the coffee with cousins, process on their own wet-mill and transport the coffee. It's a true family operation. It is in part due to this attention to detail that they produce some of the best Caturra and bourbon in the area. Their story is one of hope for the area. It's a great example of how hard work, improved quality, and selling into the specialty coffee industry can drastically improve a farmer's income and overall lifestyle. We are very proud to have Don Henry & Tanya's coffee contribute to our ALWAYS SUNNY coffee annually. 
Region: Huila
Variety: Colombia, Typica, Castillo
Altitude: 1600 - 2000 mass
Process: Naturally fermented for 12-24 hours, then fully washed