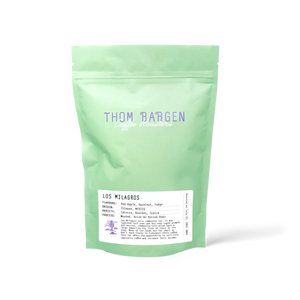 Thom Bargen coffee
Los Milagros, MEXICO
Regular price
$15.01
$0.00
Unit price
per
We are excited to bring Los Milagros to our line up this year. It is our first time working with this community lot, and we are loving it.
In our opinion community lots can be fantastic. Los Milagros is a perfect example. The region in host to many organic farmers who, for a long time, have been selling to the commodity market. This is because it is a remote region and transporting the coffee can be expensive and time consuming. After the creation of the community lot by one of our importing partners (Caravela Coffee) these farmers have been able to sell to the specialty market. This means that they have drastically increased their income and can now focus on producing quality coffee.  
Region: Chiapas
Variety: Typical, Bourbon, Caturra.
Altitude: 1700 masl

Process: Washed
Tasting Notes: Peanut Butter Cup, Creamy, Grape